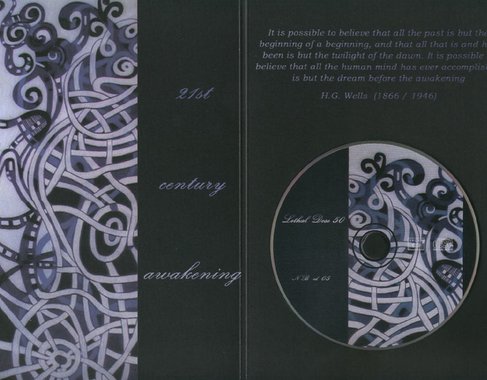 21st Century Awakening
Tracklist:
21th Century Awakening
Dose V.s. 291
Pureness
Solitude
Dose IV.v.586
Dose IV.v.264
Anti-Dose IX.s.265
Dose IV.a.566
Dose IV.v.518
Dose XII.29.294
Nuit Et Brouillard: LETHAL DOSE 50 is the poison dose injected into the veins of persons sentenced to the death penalty in some states of the United States.… but LD50 is also a Belgian trio which has been existing for years in the fields of electronic musics. After a self-released first tape and a first CD-R, we are proud to offer you the first full length CD by this talented unit. Using some digital instruments - synths, samplers- as well as some analogue ones -synths, rhythm'n box, effects-… LD50 develops an atmospheric music which is at the same time dark but warm, cosmic and experimental, melodic and deep, meditative but aware, often underlaid by some sampled voices and sound-collages, sometimes intermingled with/ intersected with some hypnotic rhythms. Being fully mastered and definitely original compared to some nowadays releases from the dark-ambient genre, "21st century awakening" will both appeal to the nostalgics of the 70ies and 80ies sonorities -old-school space-electronics- such as TANGERINE DREAM, NOCTURNAL EMISSIONS-.as well as to the lovers of some nowadays dark ambient acts such as SCHLOSS TEGAL, INADE, HERBST 9 or FIRST LAW… LD 50 is certainly the sole musical project able to set a bridge between these two tendencies, these two sounds, these two periods… Fans of sterilized lap-top generated or of cheap new-age ethno-ambient can go their way. "21st century awakening" will appeal as much to the soul as to the body, to the mind as to the heart. At first listening, this record may seem a little bit strange to you, like being out of phases, but the following listenings will draw you into an endless spiral similar to the one painted on the sleeve. Allow yourself enough of freedom for that... CD re-mastered by Christian RENOU, housed in an original A5 size silk-screened fold-out cover. Paintings by Leyla ERSEN.64 minutes/10 tracks).
Reviews:
"LD50 develops an athmospheric ambient which is at same time dark but warm, cosmic and experimental, melodic and deep, meditative but aware. Comes in a nice A5 sized silk-screened fold out cover." - www.neuroscan.org
"21st Century Awakening is the first full lengthed album by Lethal Dose 50 who has been active for several years now. The album comes in a really good looking A5 cover with a really interesting painting on it, and with Christian Renou mastering the final work, which in the opinion of the writer of this article, can't be something bad whatsoever. Lethl dose 50 manages to combine the cold elements of dark ambient that you are all familiar with, along with the rater warm and deep sounds of old school space/psychedellic electronics. Imagine Tangerine going into the dark ambient world, without forgetting their older (I am talking about their first albums only) material. The result are not always good, with the dark wheels sometimes getting stuck between the warmer, spacey ones, but sometimes the hybrid is interesting. Some other acts have done this before, and while it wasn't always an experiment which ended up 100% successful, it certainly have lifted the certain artist above, or maybe just aside, of the endless dark ambient lake, or swamp, as some would say. The most powerful track on this album is the first track, bearing the title of the album. A real deep and all engulfing trip, with a really meditative vibe. Repeating chants make everything even more hypnotizing and make this track a wonderful opening to the album. Going to the second track, things are getting heavier. Feedbacked industrial drones are providing a quite stressing soundscape to a low hum of keyboards. Interesting track indeed. "Pureness" starts to grab some rythm. A warm, almost trance-like beat with a truly vintage feeling. It's a little colder, but I am thinking about tangerine dream's richochet as I am listening to this track. The sudden praying voices that are added bring a twist to this nostalgia wave and give it the vibe of LD50. The hypnotic vibe goes on as well on the next track, "Solitude" that seems to dig deeper into the subconscious and each and every track afterwards bring it's own attempt on the hypnotical and dark. Track number six brings forth anoter distorted speech sample with a droning background. "Anti-dose" is a nice rythmic track, reminding some tracks by Contagious Orgasm or some of the lighter rythmic releases of Ant-zen/Hymen. Track number 8 is a massive bass drone that is much more powerful than anything else on this album. Not the best of them, but really powerful, with the harsh drone certainly grasping the listener into its warm grasp. The low tidal wave goes on on the ninth track, this time with a high shriek that takes control. It's interesting to see how the tracks become more and more abstract and uneasy the more you go into this album. There's a long path to walk between the rythm and melody of "Pureness" and the hostile enviroment of this ninth track. LD50 bring a hard, interesting debut album with well combined elements and powerful developments. It is H.G Wells they choose to quote on the album cover, saying that everything we experience might be the dream before the awakening, but with the name LD50 and the matching track names, this album might be just what is accomplished before that horrible needle goes in. Last track, the final breaths of this 21st century awakening indeed. A low, almost room-tone like spacey hum. This is what is left from the harsh journey through these lethal dose experiment. The last trace of – anything really, that is left on the now empty room where once there was life. Someone has to clean this mess up after all. Dont you forget it." - www.heathenharvest.com
"Given the band's True Crime sounding name, the prospect of reviewing yet another noise release was, shall we say, a little off-putting. So it was a pleasant surprise to find that, instead of noise, 21st Century Awakening is an album that brings to mind what for me is something of a golden age of industrial and dark ambient music. Though it is no doubt the result of nothing more empirical than the wearing of rose-tinted glasses, this period is the mid 90s, when German labels such as Loki Foundation and Power and Steel were beginning to find their feet, releasing music that seemed effortlessly mystical and otherworldly. Like the artists associated with those labels at the time, Belgian trio Lethal Dose 50 combine largely analogue synths and effects that create a musical structure with a more experimental twist that prevents it being staid and conventional. As the press release mentions, there are also obvious nods to the cosmic music elements within Krautrock, which one could also argue is true of those industrial ambient bands from the mid 90s. 21st Century Awakening consists of ten tracks, with the last six being a suite of works based around the self-referential theme of doses. Synth-created drones and tones dominate the musical palette, offset with the occasional squall of sound or hypnotic rhythmic pattern. The sound is not one that tries to create cosmic sounding music with obvious space effect trills and arpeggios, but one in which the unadorned tones seem as if they're generated through the music of the spheres. Anti-Dose IX.s.265 acts as the perfect encapsulation of this style, beginning with a thick reverberating tone before introducing a simple but bass heavy beat that propels the track along; albeit ending far too quickly." - monkeyhouse-recordings.co.uk
"First official CD release from this Belgian outfit will appeal to those fond of the '70s and '80s space electronic sound (ie, Tangerine Dream, Nocturnal Emissions), as well as newer purveyors, most notably First Law and Bad Sector. Clear, flowing, cosmic drones and penetrating tones with a hypnotic, drugged feel, sometimes interspersed with the occasional rhythm. Nothing warm and milky here though, more cold and sterile…but, I mean that in the most positive sense." - www.malignantrecords.com